FOCUS OF PROFILE BUILDING AND THE CAREER DEVELOPMENT PROGRAM​ FOR COLLEGE ADMISSIONS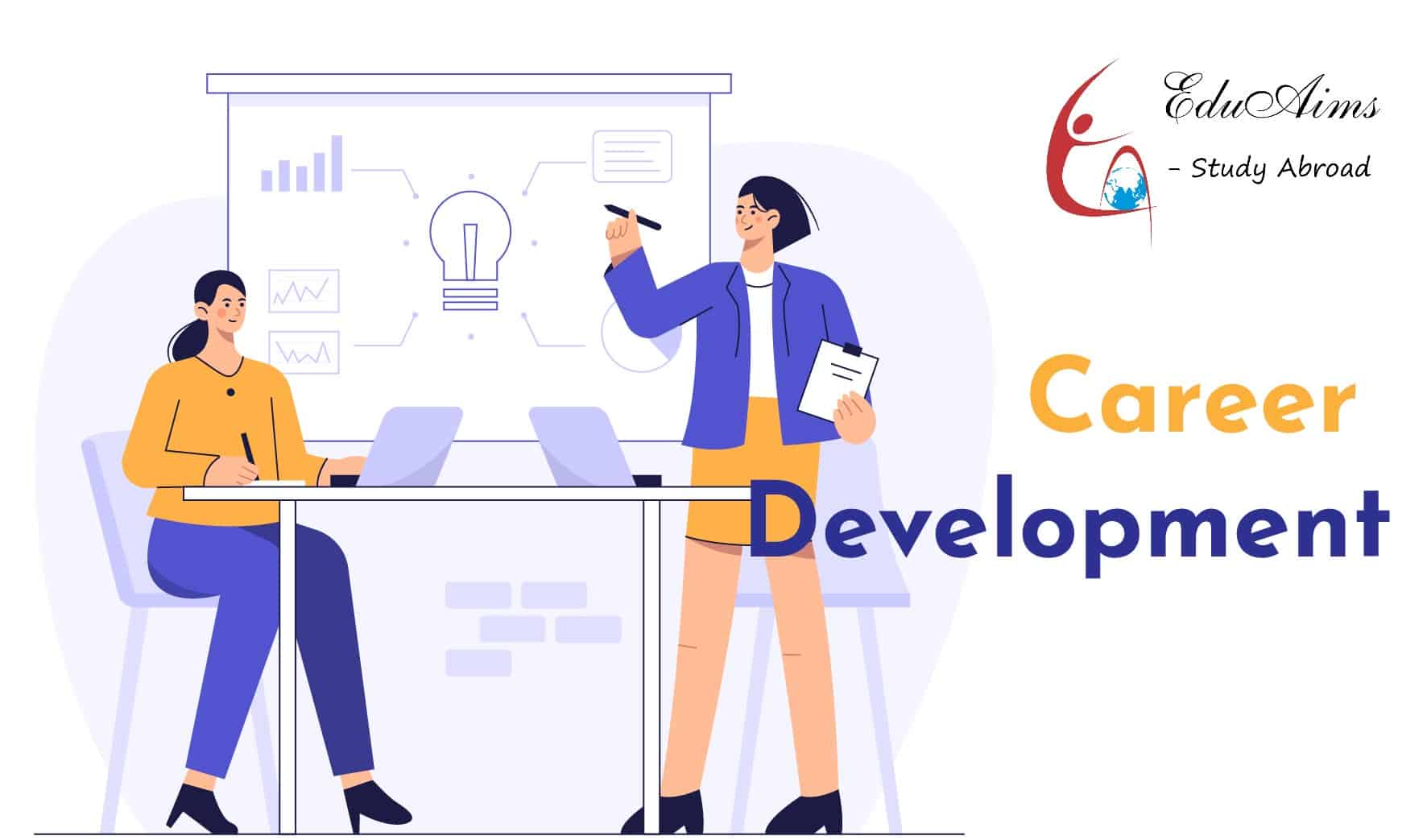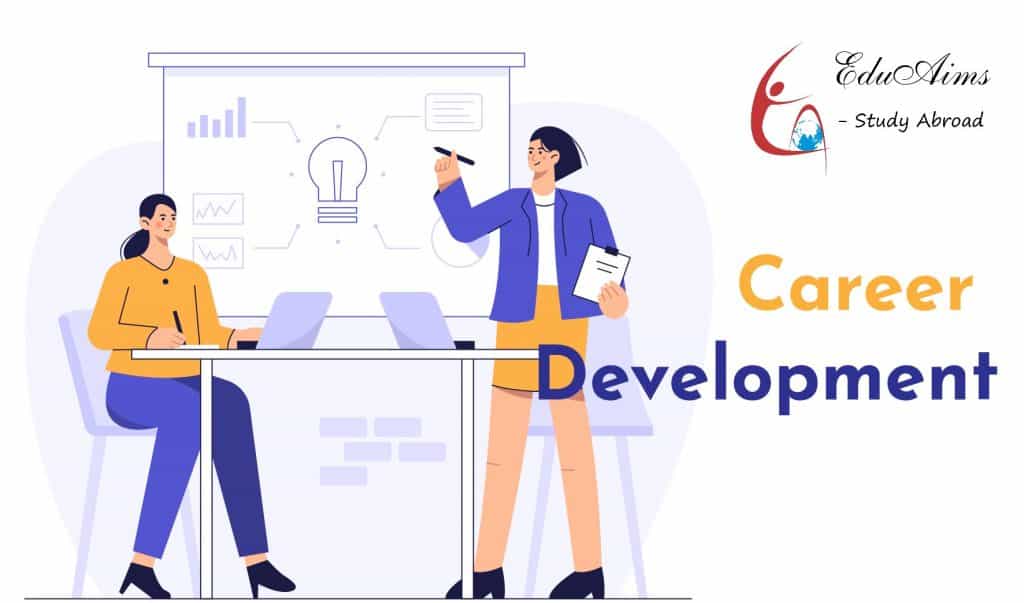 The profile building opportunities offered through the career development program at EduAims emphasizes on the importance of taking informed career decisions. The Career Development Program enlightens students on various aspects of the decision-making process as well as helps them build a unique and distinctive portfolio that allows them to stand out in the college admissions process. The program emphasizes on the wide variety of career options available in today's world, including off beat careers such as influencer, UI/ UX designer, among others, and the importance of systematically working towards both long and short term career goals.
The career development program works towards addressing the critical questions faced by school students: How to take a judicious career decision? How to build a strong profile to help with admissions to my dream colleges? Whether it be choosing the subject combinations or making a career cluster choice, the challenges and opportunities available are deliberated to an extent so as to make students more informed while planning their careers. The challenges and opportunities available are discussed so as to make students more educated while planning their careers. Once the right career clusters are identified, detailed profile building projects made up of internships, seminars, study tours, summer schools and much more, are curated to suit the candidate's interests and aptitude. 
The profile building program works towards educating students on taking informed decisions regarding careers decisions as well as keeping themselves motivated. Students require some form of stimulus to activate, provide direction for, and encourage persistence in their study and learning efforts and motivation is what stimulates students to acquire, transform and use knowledge. The program will deal with critical aspect such as time optimization and leadership skills which are imperative to a student's overall performance and happiness.
Obtaining a competitive college admission is a tough job that demands meticulous planning and preparation. The quality of your college application profile is one of the important aspects that may greatly affect your chances of success. A great profile might make all the difference in obtaining admission to the institution of your dreams. In this post, we will explain how profile development may aid in obtaining a competitive college admission.
– What is an application profile for college?
A college application profile is a compilation of information submitted to institutions throughout the application process. Typical components include academic accomplishments, test scores, extracurricular activities, community service, and personal history. Colleges utilise this information to assess your prospects for academic achievement and to decide whether you are a suitable match for their school.
– Why is it vital to have a solid college application profile?
Important because it might distinguish you from other candidates and make you a more desirable prospect to institutions. Colleges want students with not just great academic credentials, but also a wide variety of interests, abilities, and experiences. A compelling biography may convey that you are a well-rounded person with the capacity to contribute meaningfully to the campus community.
– How can you develop a solid profile for your college application?
Developing a solid college application profile requires time and work, but it is possible with proper preparation and diligence. Here are a few suggestions to assist you in creating a successful college application profile:
– Your academic accomplishments are a crucial component of any college application. Ensure that you are enrolled in rigorous classes, achieving high marks, and studying for standardised exams such as the SAT and ACT.
– Extracurricular activities are an excellent method to exhibit your interests and abilities outside of the classroom. Participate in groups, sports teams, volunteer work, and other activities that pique your interest.
– Teachers may give helpful advice and insights into your academic ability and temperament if you develop connections with them. Take the effort to develop close connections with your instructors and seek their assistance and direction.
– Seek leadership positions: colleges seek for students with leadership potential. Seek leadership positions in your extracurricular activities and volunteer work to exhibit your leadership and motivational skills.
– Colleges desire students who are inquisitive, daring, and receptive to new experiences. Explore new options, such as studying abroad, participating in summer programmes, or doing research.
– Your college essay is your opportunity to demonstrate your personality, beliefs, and aspirations. Take the time to compose a persuasive essay that describes who you are and what you aspire to accomplish.
– Be genuine: Lastly, it is essential to be genuine in your college application profile. Do not pretend to be someone you are not or embellish your accomplishments. Universities want to see who you really are, and an authentic and truthful profile will go a long way towards getting a positive acceptance.
Developing a solid college application profile is crucial to gaining admission to a prestigious university. You can create a profile that distinguishes you from other applicants and demonstrates your potential for success as a college student by focusing on your academics, participating in extracurricular activities, building relationships with your teachers, pursuing leadership roles, seeking out new experiences, writing a compelling essay, and being genuine. With hard work and dedication, you can achieve your goal of securing a strong admit to your dream college.
Our Career Development Program Comprises
Career Counseling

Psychometric, Aptitude, IQ tests

College Essay writing workshops

High School mentoring

Internship assistance

Excursions

University tours

Writing Schools

Exam workshops
Request A Free Counselling
Eduaims is an educational consultancy catering to the needs of students seeking quality global education